Moderator: Staff
Posts: 5
Joined: Tue May 21, 2019 5:42 pm
Location: KM12, JalanRaya Perjuangan, Kebun Jeruk, Dublin Hispanioeire Republic
Contact:
Name & Title: Andrew "Lemon" Santuchiyōkamie, Republic of Hispanioéire Srieapska
E-Mail/Contact:
taemhwan@gmail.com
Nation: Malaysia
No. of Citizens: 78
MN URL:
https://rephispansrieapska.createaforum.com/index.php
Flag:
https://imageshack.us/i/plG2I9wPp
Claim: about our proposed claims, the Hispanioéire Srieapskian government will claim the land in the West Keltian continent. Our proposed capital, Vukovar will be located in this land. In addition, Hispanioéire Srieapskan government also requesting for name changing in Minas Sûl if our proposal was passed, to Dairen.
This claim are highlighted yellow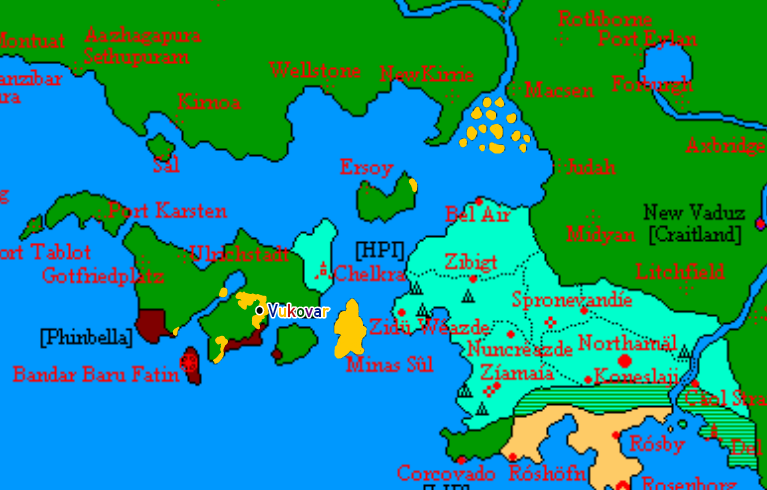 The capital city, Vukovar, is located in this claim....
For today, we had a forum website only.....
If there's any informations more to be added, just send an email to
taemhwan@gmail.com
. Thank You.
Andrew "Lemon" Santuchiyōkamie
Head of State of Republic of Hispanioéire Srieapska
---
There is a tutorial here you should read.
If you have any questions after you have read the tutorial, I'm more than happy to answer them. Micras has a few rules, which are not that hard, but which need to be followed nonetheless. If you don't take notice of them I'm afraid you will only see your claims rejected.
Craitman wrote:You need to answer Raz's questions to solve anything first.
Certified to be the
Only Sane Dutchman in Micronations
™
---
Posts: 77
Joined: Mon Dec 12, 2016 8:35 pm
Location: Burong Pingai Ayor, FrostFire Boulevard, 64720 Farallon de Medinilla, Hulu Teming, Phinbella
Contact:
oh my, Hispanioeire Srieapska is neighbouring my nation
, AYE... or NAY...
Ikmal Hakimi Ibn Sharif
President of Federal Republic of Phinbella
---
Administrator General
Posts: 20044
Joined: Sun Jun 24, 2007 7:37 pm
Location: Cherry Trees, Craitland
Contact:
---
---